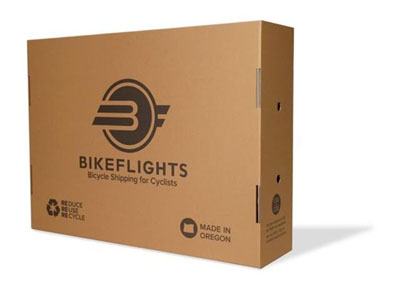 How Size and Weight Affect Your Shipment Rates
Shipping rates for your bike and gear are determined by both the size and the weight of your shipment. The total cost of your shipment is comprised of shipping rates + pickup fee (if applicable) + residential delivery fee (if applicable) + amount of Premium Protection purchased + clearance fees (if applicable).
How To Measure Your Shipment
We've pre-loaded the dimensions of popular cases suitable for shipping on our website. If you would like to ship in a case not on our list, please contact us to verify that it is suitable for shipping. For all boxes or cases not on our list, use a tape measure to determine the following dimensions for your shipment: Length, Width and Height.
Length is always the longest side of box or case; Height is the second longest, and Width is the dimension that's left over.
Always round up any Length, Width or Height measurement to the next unit. For example, a measurement of 12.25 inches must be entered as 13 inches, and a measurement of 13.7 cm must be entered as 14 cm.
Use a scale to measure your shipment's weight. Always round weight up to the next whole pound or kilogram. For example, 57.2 lb must be entered as 58 lb, and 33.3 kg must be entered as 34 kg.
Size and Weight Matter
Size and weight affect shipping rates. Carriers calculate a shipment's size based on its Length, Width and Height where:
Shipment Size = (1 x Length) + (2 x Width) + (2 x Height).
You will get the best shipping rates when your Shipment Size is less than or equal to 130 inches or 330 cm. BikeFlights.com will ship packages up to a Shipment Size of 165 inches or 419 cm.
Weight influences pricing, too, but tends to do so less than size for most bikes, which are relatively light. You'll get the best rates for packages under 70 lb (31.75 kg), but our partner carrier will ship packages up to 150 lb (68 kg).
BikeFlights.com does NOT ship packages with a Shipment Size of larger than 165 inches (419 cm) or with a Length larger than 108 inches (274 cm). BikeFlights.com also does NOT ship packages weighing more than 150 lb (68 kg). If you ship a package exceeding any of these limits, you will be charged a carrier penalty of US$850, and your shipment may be stopped, delayed or returned to sender.
Pickup Fees
If you request a pickup for your shipment, you will be charged a fee of $15 per order, regardless of the number of bikes being picked up.
Residential Delivery Fees
A $5.00 fee per package is charged for delivery to many residential addresses.
Protect Your Bike
Shipping rates do not include the cost of BikeFlights.com Premium Protection. Upon ordering, you may purchase Premium Protection in $100 increments at a cost of $1.45 per $100 of value you specify.
Clearance Fees
When you ship internationally, you may have to pay duty, taxes and fees and VAT. These are calculated based on cost of goods being shipped, shipping purpose and where you are shipping to and from.