Shipping rates for your bike and gear are influenced by both the size and the weight of your shipment. With major carriers recently expanding the applicability of their surcharge for larger packages needing additional handing effective June 1, 2016, it's more important than ever to familiarize yourself with key shipment size restrictions to save yourself money, time and hassle ahead of your next shipment with BikeFlights.com.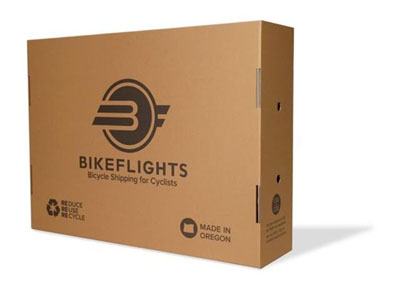 Shipment Size Matters
To get the most economical shipping rates, your "Shipment Size" should be less than or equal to 130 inches or 330 cm.
Shipment Size = Length + Girth
where
Girth = 2 x Width + 2 x Height
so
Shipment Size = Length + 2 x Width + 2 x Height
BikeFlights.com can ship packages up to a Shipment Size of 165, but it will be at higher rates.
Length is always the longest side of box or case; height is the second longest, and width is the dimension that's left over. For many shipments, package length must be 108 inches (274 cm) or less.
Weight matters, too, but it tends not to be an issue for bikes, which are relatively light. Our partner carriers, for example, will ship packages up to 150lb (68kg), but you'll get the best rates for packages under 70lb.
International Shipping
Shipment Size is very important when you are shipping your bike internationally. If your shipment is larger or heavier than the cutoff, it may not be able to get shipped at all, especially depending on the destination country, or it may get bumped up to more expensive international freight rates.
Don't assume the case or box you use domestically will be good for international shipping - get out your tape measure and check. Some of the newest cases available are huge and therefore very expensive to ship internationally. Please note that we have pre-populated the sizes of many standard cases and boxes on BikeFlights.com, so you can more easily get accurate rates when pricing your next shipment.
We suggest that you read our guide to shipping internationally before your next shipment abroad.
Additional Handling Surcharge
On June 1, 2016, our partner carriers modified their Additional Handling Surcharge (AHS). Changes to when the surcharge is applicable affect pricing on shipping rates for some shipments by BikeFlights.com customers.
While the actual rate for the AHS remains the same per package, the package length at which the fee is incurred has been reduced from 60 inches to 48 inches - for both domestic and US/Canada shipments.
The AHS now applies when a shipment's
Longest side (Length) is 48" or more.
Second longest side (height) is 30" or more.
Weight is 70lb or more.
This means that prices for "longer" bike boxes and cases (those between 48 and 60 inches) - such as the Evoc, Tri All 3 and Pika cases - may be higher. Rates for some shorter boxes and cases - such as the Trico, Serfas and Ruster - remain the same because of their size.
On a positive note, carriers expanded the Additional Handling Fee to cover the costs of handling large packages more safely. Bigger items now run separately on larger belts which means less potential damage to packages of all sizes during the shipping process.